Understanding


Rev Radth Youngman

What a wonderful vision Judith Durham presents in her lyrics for Advance Australia Fair!:
Australians let us stand as one, upon this sacred land
A new day dawns, we're moving on to trust and understand.
To trust is to have faith, to have hope.

As Sir John Templeton, in his essay on understanding in New Thought for the New Millennium: Twelve Powers
for the 21st Century

Understanding brings to the heartful, open, perceiving power of faith a capacity to be broadminded, inlculsive and generous.

In her book, Your God-Given Potential, Winifred Wilkinson Hausmann, writes:

The awakening of our own faculty of understanding starts with questioning-questioning the
ways of thinking that you may have been taken for granted. The desire for understanding leads to
thinking about what is learned and seeking to put it all together in a body of information that will
provide a basis for living.

Judith's lyrics continue from to trust and understand…

Combine our ancient history and cultures everywhere,
To bond together for all time, advance Australia fair.


MY EVERYDAY MAGIC

To live without magic, for me, would be tragic
Such a lack would sadden my day
Give me premonitions and strange apparitions
The miraculous, the quirky, the fey.

I like the magical, the mystical, the not egotistical
The enchantment of forces in cosmic array
The intuitive insight that turns out to be right
Then helps me upon my way.

To me the epitome of serendipity
Is the coincidence that arrives today
Full of magic and mystery, it changes my history
And it can't be explained away.

Give me studies theosophical, or stories apocryphal
Let me hear what they have to say
Such a phantasmagoria fills me with euphoria
And keeps dull old logic at bay.

Keep your sense and your reason, the latest theory in season
Don't theorise my magic away
Save your thoughts noetic, let me see justice poetic
Balance the scales by a curious play.

Come, tear the veil asunder, feel the magic, the wonder
And let me see the world as I may
Sense the fairies all glimmering, the Angel's wings shimmering
Through the prosaic events of the day.





Rev. Sylvia being inspired by Gabriel blowing his horn at one of our Jazz concerts in 2017 ====>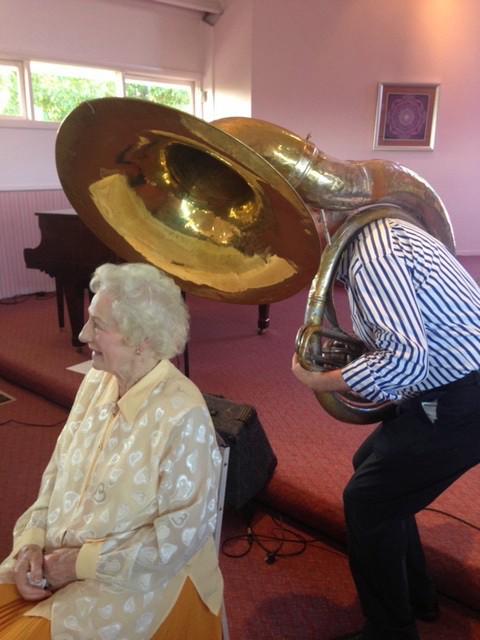 ===================================================================================================================================================