UNITY OF MELBOURNE MINISTER'S REPORT JULY 2021


Over the last month (June) we had speakers (on Zoom) for our Sunday Gathering from interstate and overseas. They were Ros Goldsborough LUT, who is completing her ministry studies, and Julian Harvey LUT, from Reflections of Truth in Brisbane, who is also completing ministerial studies.

Thanks, must go to those of our group who have contributed to the Sunday Zoom Service. Radth Youngman for his presentation about Naidoc Week on the 4th July and to Beverley Sheehan for asking Judith Durham if we could use her arrangement of Advance Australia Fair on that day. Thanks to Jenette Youngman for her Sunday Message , Daily word readers, Library updates from Diane Lennon, all our musicians, screen and music shares and co-hosts.

I am looking forward to knowing when we will be back in the Sanctuary so I can plan interstate and overseas speakers for the days we are only delivering our Sunday gathering via Zoom.

I am in the middle of presenting (twice a week) "Meditation practices" with Rev. Rhonda Murray for the Unity National School. In October I will be presenting for UNS, "The history of Unity and New Thought." I have presented this before about two years ago.

The Unity Leaders Meetings occur on the first Saturday of the month. Nothing to report here, it is a monthly catch up on personal events but also an update on the Unity National School Website, which I was able to say that we at Unity of Melbourne have given great support to. There is a link on our web site and weekly email about it.
A decision was made to not go ahead with meeting for the AAUL general meeting live in Queensland at the Greenmount Hotel, Tweed heads, but to link up via zoom for the AGM and the class intensives over that week in September.
That Sunday (Sept 5th also Father's Day) there is a possibility of a combined Sunday Service with us and "Reflections of Truth in Brisbane." This went well last year.

I have purchased 10 copies of "Unity's Five Principles" by Ellen Debenport. When the time is right I will have a class on these Principles which are vital for all those who want to know about Unity, especially those who would like to become members in the future.

The Intention Circle group with coordinator Jenny Louise are "keeping the high watch" for those requiring support. There have been many requests for prayer intentions and we thank all who are attending to this vital part of our ministry.

Also, it has been a year (July 14th 2020) since the passing of one of our most dedicated presidents and longtime committee member Ralph Baker. We remember him for his contribution to this building and spiritual solidarity in his time with us.

To Radth Youngman for the weekly email, the AV desk and screen sharing on Zoom, also for his PowerPoint presentations and music for our Sunday gatherings.

To Wayne O'Connor for the website updates and maintenance and Sunday Screen sharing and for all his work as our Treasurer.

To Jenny Morgan for all her work as Intention Circle Co-Ordinator, Music for our Sunday gatherings and her help with all other tasks as needed.

To Duncan Steward for taking over the role of Venue Manager of our Burwood premises, for coordinating and managing all our bookings and ensuring all administration and communication regarding these are managed quickly and efficiently.

A big thank you to Wendy Steward for her work as secretary, also the daily updates on Facebook, co- hosting our Sunday gathering as required and for all the admin support to me personally to help prepare the Sunday gathering and other tasks as needed.
We are grateful for all her efforts in all areas.


To all our committee members I say thank you for the vital work each of you are doing physically and spiritually to keep Unity of Melbourne together during these unusual times.

I look forward to being back at our premises in person and continuing to spread the Unity Message.

Many Blessings,

Rev. William Livingston.
.


Here is the song requested on Sunday 13th June 2021.
It is from The "Wings of Song" songbook number 337.
"When you rule your mind."




Think light in the face of darkness ;
Think faith when you're lost at sea ;
Think good for there is no evil in the world
unless you think there ought to be'

When you rule your mind, you rule the world
Think light…Think faith…Think good.

Think high when your feeling lowdown;
Think free when you want to fly;
Think big if you want to grow up in the world
Unless you think, you'll never try.

When you rule your mind, you rule the world
Think high…Think faith…think big.

Think life full of vim and vigour;
Think truth let the spirit flow;
Think love and there will be love in all the world
unless you think, you'll never know.

When you rule your mind, you rule your world
Think life…Think truth…think love.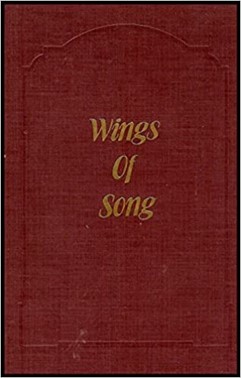 MY EVERYDAY MAGIC


To live without magic, for me, would be tragic
Such a lack would sadden my day
Give me premonitions and strange apparitions
The miraculous, the quirky, the fey.

I like the magical, the mystical, the not egotistical
The enchantment of forces in cosmic array
The intuitive insight that turns out to be right
Then helps me upon my way.

To me the epitome of serendipity
Is the coincidence that arrives today
Full of magic and mystery, it changes my history
And it can't be explained away.

Give me studies theosophical, or stories apocryphal
Let me hear what they have to say
Such a phantasmagoria fills me with euphoria
And keeps dull old logic at bay.

Keep your sense and your reason, the latest theory in season
Don't theorise my magic away
Save your thoughts noetic, let me see justice poetic
Balance the scales by a curious play.

Come, tear the veil asunder, feel the magic, the wonder
And let me see the world as I may
Sense the fairies all glimmering, the Angel's wings shimmering
Through the prosaic events of the day.





Rev. Sylvia being inspired by Gabriel blowing his horn at one of our Jazz concerts in 2017 ====>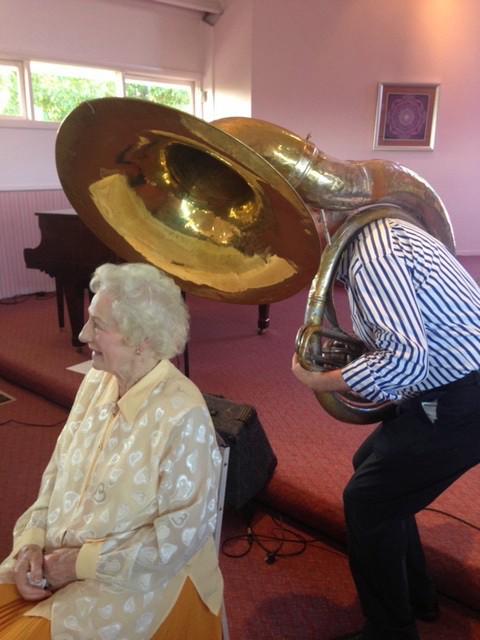 ===================================================================================================================================================