Welcome to Unity of Melbourne!
Greetings Fellow Travellers on the path.

Welcome to 2020.


As we commence and reflect on the year ahead, it helps to realise that everything that has happened to us up till this moment, joy, sorrow, pleasure, pain, and our reactions to these situations, are all part of our spiritual growth in this mystery school of life.

We can read many books and meditate alone, but it is interacting with our fellow travellers in the ups and downs of daily living that we gain practical experience in working out the Truth Principles that have already been there waiting for our discovery.

As we consciously put these Truth Principles into operation with whom and with what we already have - we see the Fruits of the Spirit (Gal.5:22-23) out- pictured in our lives.


---
Unity offers "The Five Principles." These were written to provide tools for daily living and suggests answers to the greatest questions of existence that humans have been asking since the dawn of consciousness.


What is this greater Presence that we sense around us?

Who and what are we?

Why do things happen in our daily lives the way they do?

How can we communicate with this Presence?

What are we here to do?…(and more)M/center>

On Saturday 11th Jan. 2020 at 2PM I will be presenting a five weekly discussion on the book "The Five Principles" by Ellen Debenport. This is easy to follow , and up to date with language and the times we are now living in.

Over the twelve months we also study the qualities of what are called "The Twelve Powers."

Faith : Strength : Wisdom/Judgment : Love : Power : Imagination : Understanding : Will : Order : Zeal : Elimination : Life.

For JANUARY we review the power of FAITH…this is represented by the Disciple PETER: The colour is BLUE : The location in the body is the PINEAL Gland:

The quality of Faith is the ability to believe with confidence and know that at all times there is only One Presence and One Power. Knowing this I act in line with Universal Spiritual Law, understanding now that I am more than just the body but a Spiritual Being here to learn and live according to those Laws of Spirit. This gives me confidence as I affirm:



"Filled with positive expectation, I expect only good."



For more information on what is happening over the next few months, see the what's on section .

Blessings,
Rev. William Livingston.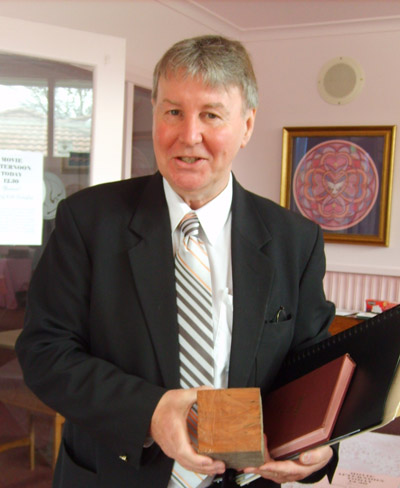 What's on at Unity of Melbourne
Meditation
Sundays, 9.30 - 10.00am.
Sunday Service
10.30 - 11.30am followed by refreshments and fellowship.
Library and Bookshop
open between 11.30 and midday. Membership fee applies.
Counselling
with the Ministers is available by appointment. Please telephone 9889 8503 to make a booking.
Check the events tab for the latest on upcoming events
---
Jazz @ Unity
Purchase Tickets here!
Events date Sunday 29th March 2020