Welcome to Unity of Melbourne!
Greetings Fellow Travellers on the path.

Welcome to 2020


As we commence and reflect on the year ahead, it helps to realise that everything that has happened to us up till this moment, joy, sorrow, pleasure, pain, and our reactions to these situations, are all part of our spiritual growth in this mystery school of life.

We can read many books and meditate alone, but it is interacting with our fellow travellers in the ups and downs of daily living that we gain practical experience in working out the Truth Principles that have already been there waiting for our discovery.

As we consciously put these Truth Principles into operation with whom and with what we already have - we see the Fruits of the Spirit (Gal.5:22-23) out- pictured in our lives.


---
Power of the Month POWER / DOMINION

WELCOME TO THE MONTH OF MAY 2020

As we continue our studies throughout the year of "The Twelve Powers, we find we are already in the month of May 2020.

The Power for May is POWER / DOMINION.
The colour is PURPLE and the position in the body is the BASE OF THE TONGUE/VOICE BOX.

The power to choose our thoughts, to will our thoughts and feelings is how we bring forth our own reality as co - creators with God / Infinite Intelligence.

To apply this POWER we put our thoughts into action.
Wisdom reveals to us to think in line with Universal Spiritual Law, for what we think is out pictured (demonstrated) in our life.

The third Unity Principle states

"Human beings create their experiences by the activity of their thinking. Everything in the manifest realm has its beginning in thought."

On reflection of this principle we know that "No one is an island unto themselves."
We may get caught up in the thoughts (vibrations) of others that are basically harmful, however we are responsible for how we react to these thoughts. This is our POWER.

God supplies us with every good thing (ideas and substance) but we have to make the effort through our own physical and mental God given attributes, to make use of what we already have and build on these abilities as directed by Spirit.

AFFIRMATION.

"In these times of challenge and change, I take dominion (POWER) over myself (not others) and affirm Peace where there is discord and affirm plenty where there is seemingly lack…and so it is."

Please check our Facebook page which is updated daily:
See WHATS ON for latest Unity Study.
See CONTACT US for "Prayer Box" requests.


Many Blessings.
Rev. William Livingston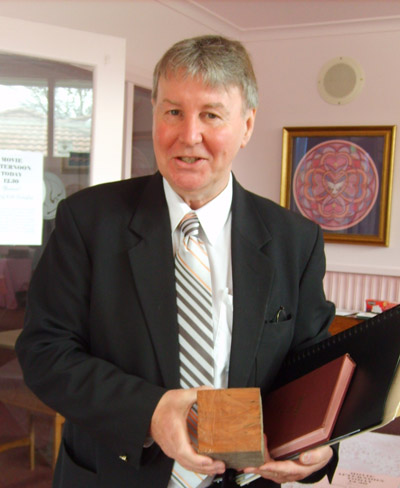 What's on at Unity of Melbourne
Meditation
Sundays, 9.30 - 10.00am.
Sunday Service
10.30 - 11.30am followed by refreshments and fellowship.
Service now on Zoom. Join URL:
https://zoom.us/j/6657964911?
Password: 1
Library and Bookshop
open between 11.30 and midday. Membership fee applies.
Spritial Counselling
with the Minister is available by appointment. Please telephone 9889 8503 (office) or 0439658119 (Minister) to make a booking.
Check the Whats on & Events tabs for the latest on upcoming events
---